Milltek Sport - Exhaust Systems
We have been supplying sports exhaust systems for European cars for many years and have had experience selling several of the top brands of exhaust. After careful consideration we decided to become the New Zealand distributor for Milltek Sport exhaust systems from the UK. We chose Milltek because we have not found a better made or better looking exhaust system on the market. Each system by Milltek Sport is competitively priced and precisely designed to increase torque and horsepower without being loud or overly ornate.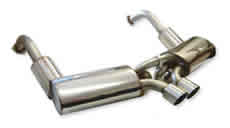 Milltek Sport exhaust systems are manufactured using aircraft grade stainless steel and machined to precision for maximum performance. Lower pressures within the Milltek Sport systems means performance is not restricted, resulting in greater driveability, sharper throttle response and, of course, increased horsepower and torque. On most after market exhaust systems, any power gains come with an unacceptable increase in volume levels. Milltek Sport pride themselves on offering exhaust systems that are engineered for performance rather than noise. Fitting a Milltek Sport exhaust will improve the tone of your engine's voice, but will do so with a subdued deeper tone.
For high performance cars and turbo cars, Milltek Sport manufactures super high-flow catalytic converters to compliment their range of performance exhaust systems. Each Milltek Sport catalytic converter is made from Fecralloy (stainless steel which contains aluminium). This alloy is made into a very thin strip that is then coiled into a honeycomb structure, which leaves 85% of the internal diameter open. The honeycomb is then coated in a combination of rare metals and aluminium oxide. For cars such as the Porsche 911 Turbo or Audi RS6, Audi TT RS4 or VW Golf GTI Mk5 FSI T, the torque and power gains are exceptional.
Milltek also manufacture tuned length exhaust manifolds (headers) to fit several applications; these replace the standard restrictive cast items to improve exhaust gas flow even further.
Milltek Sport covers a broad range of cars including Audi, BMW, Range Rover, Lotus, Ford (Europe), New Mini, Porsche, Volkswagen and Volvo. Milltek systems for new cars like the Audi RS4 4.2 (B7), Porsche 997 & Cayman, Volkswagen Golf Mk5 GTI FSI Turbo and R32 are also now available.
New Milltek Sport exhaust systems are being released every month. New systems are now available for the Audi TT FSI Turbo, new Audi TT 3.2 quattro, new Audi S3 2.0T. Further exhaust systems have been released for the New Mini Cooper S Turbo and Volkswagen Golf Mk5 models.
Is there a system available for my car?
Click here to view a list of vehicles for Milltek Sport exhausts. If your car is not listed, please contact us.
For further information on ordering Milltek Sport exhaust systems in New Zealand please call 03 348 7744, 027 22 44 750 or e-mail sales@autopassion.co.nz